AUMUND NEWS 1//2021 – Products. Projects. Progress.
AUMUND Fördertechnik
Equipment Expertise in Dry Bulk Materials Handling
The AUMUND Group specialises in technologically sophisticated and extremely reliable solutions for conveying and storage of hot, abrasive and cohesive bulk materials. Its equipment operates at high capacities, continuously and in extreme conditions.
Core values of the AUMUND Group's strategy are innovation, sustainability, and the motivation to achieve high levels of customer satisfaction. These are promoted by its international sales network of subsidiaries and agents, and have allowed the AUMUND Group's production companies, AUMUND Fördertechnik GmbH and SCHADE Lagertechnik GmbH, both based in Germany, and SAMSON Materials Handling Ltd of Ely in the UK, to secure and maintain the reputation of the Group as an international leader in the manufacture of equipment for bulk materials handling in various industries, mainly cement, lime, gypsum, iron, steel, aluminium, power, mining and minerals, chemicals, fertiliser, alternative fuels and ports and terminals.
Selected projects from several of these industries, each one illustrating technically innovative solutions, are described in the following paragraphs.
AUMUND Fördertechnik is one of the leading international specialists supplying cost-effective and innovative conveying and storage technology, tailor-made for all kinds of bulk materials. With more than 22,000 references in around 150 countries AUMUND is one of the most experienced and sought-after suppliers of belt and chain bucket elevators, pan conveyors, stationary and mobile material feeders, chain conveyors, discharge systems and loading solutions.
SCHADE Lagertechnik is a specialist in the planning and design of stacking and reclaiming equipment and combined machines for longitudinal and circular storage, stockyards and blending beds, as well as wagon unloading systems.
SAMSON Materials Handling is dedicated to providing the most comprehensive range of mobile solutions for bulk materials handling and has developed an extensive range of equipment for the reliable intake, storage and export of general bulk cargoes. Flexibility, reliability, quality, safety and performance are core features of every one of its products. Various types of mobile feeders, shiploaders and eco hoppers are available, and the new generation STORMAJOR® is its latest triumph.
Power Station at a Chemical Plant
The New Generation STORMAJOR® from SAMSON
AUMUND Asia (H.K.) Limited is the AUMUND Group entity responsible for the Asia-Pacific Region and received an order from PT Asahimas Chemical, Java, Indonesia, for the first SAMSON STORMAJOR® of the new generation to increase the efficiency and productivity of the process cycle at its coal-fired power station. The STORMAJOR® is a combination of a Mobile Samson® Material Feeder with a moveable outloading boom, both of which are mounted on the same chassis, presenting many and varied possibilities for stockpiling and loading with maximum efficiency.
In order to minimise spontaneous combustion in the coal stockpiles, the STORMAJOR® stacks coal onto external piles and brings it back into the storage area after it has cooled down, in a simplified and speedy manner which helps to keep the quality of the coal intact. PT Asahimas Chemical chose a STORMAJOR® Series 450 which is mid- range in terms of size.
Minimum-Emissions Coal Handling by SCHADE
A recent prestigious project success can be seen in the supply of four Semi-Portal Reclaimers to Doosan Engineering & Construction, for POSCO Energy's new coal-fired power station in Samcheok in the north-east of South Korea. This plant will be extremely eco-friendly: in addition to other measures planned, dust emissions are to be reduced to almost zero, and a contributory factor will be the completely enclosed coal storage in which the SCHADE Semi-Portal Reclaimers will operate. The four identical machines ordered have a reclaim capacity of 1,500 tph each, and their rail span is 57 m. The overall storage capacity at Samcheok is for 700,000 t of bituminous and sub-bituminous coals.
Cement
Flagship Equipment from AUMUND
AUMUND Fördertechnik Equipment has been operating in cement plants all over the world for decades. The level of expertise which comes with this degree of experience in the field enables AUMUND engineers to accompany customers from the very beginning of their planning, whether it be for a completely new plant, additional equipment, an upgrade, or a modification resulting from changes in process requirements.
For example, when it supplied five pan conveyors as part of a recent project to construct a new 120,000-t clinker silo at Cementownia Warta in Poland, AUMUND planned the clinker conveying circuit for silo feeding so that a second silo can be connected at a later stage without having to make any significant modifications to the existing plant layout. The connection of the silo to the clinker production process is assured by a pivoting pan conveyor which was originally supplied by AUMUND back in 2008.
Metallurgy
Specialised Solutions from AUMUND
With its Metallurgy Business Unit AUMUND Fördertechnik is a global market leader in the conveying of sponge iron, or DRI, a product of direct reduction of iron ore. For hot charging of DRI an AUMUND Bucket Apron Conveyor transports the hot material from a direct reduction shaft furnace, under heat- insulated and inert conditions, directly to the electro arc furnace in the steel plant.
For handling HBI (Hot Briquetted Iron), semi-briquetted sponge iron produced by direct reduction of iron ore pellets, the patented AUMUND mist cooling process is implemented. The HBI is sprayed with water mist on an AUMUND Flat Plate Conveyor and gently cooled down in a patented process which does not damage the product, and contributes to ensuring its high quality.
In 2016 the Austrian steel concern voestalpine commissioned what was then the largest and most advanced plant for HBI in Corpus Christi, USA. AUMUND Fördertechnik supplied two Flat Plate Conveyors type FPB-K for Cooling. The considerable mechanical and process- related pressure on the conveyors and the immense focus on availability of HBI resulted in the plant management of voestalpine Texas LLC placing a conversion order with AUMUND Fördertechnik to upgrade both conveying lines to an enhanced overall design including modified chain drive in November 2020.
Customised Equipment from SCHADE for Iron Ore Handling
In another recent development, SCHADE is supplying eight Semi-Portal Reclaimers to the new Zhongtian Steel Works in Nantong, China, via general contractor CISDI and the AUMUND Group subsidiary, AUMUND Machinery Technology (Beijing) Ltd. The machines have been specially designed for this project and each one has a capacity of 1,800 tph of iron ore.
Ports & Terminals
Wagon Unloading Systems
In October 2019, in the presence of the Russian President Vladimir Putin, the first of two coal and iron ore handling lines was commissioned at the new Taman Seaport in the Krasnodar Region on the Black Sea, the second largest freight handling port in the southern part of Russia, built by the Russian company OTEKO-Portservice.
As part of the order for this project, SCHADE supplied a system which unloads three wagons at a time, with each of the two Triple C-Frame Wagon Tipplers working in parallel. This is equivalent to an unloading capacity of 60 wagons per hour each. The supply also includes four Semi- Portal Reclaimers, two further C-Frame Wagon Tipplers for coal and iron ore, and a Pivot Frame Wagon Tippler to be used for handling sulphur, which makes this the largest package of equipment SCHADE has supplied under a single order to date.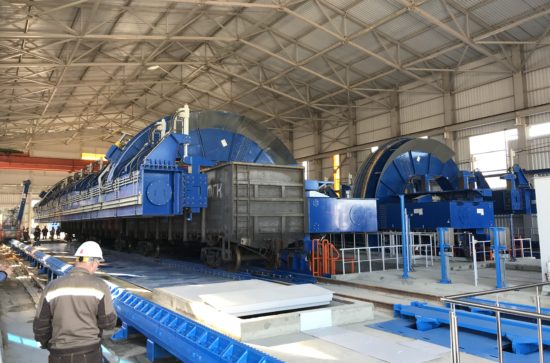 Alternative Fuels
The cement, steel and power industries are all energy-intensive, and still predominantly use fossil fuels in their processes, releasing carbon dioxide which is damaging to the environment. At the same time these industries are having to comply with increasingly stringent domestic and international legal requirements in order to reduce their CO emissions. Alternative fuels play a significant role in achieving these targets. The AUMUND Group has therefore developed several new specialised solutions for handling alternative fuels.
AUMUND Moving Floor Conveyor
The AUMUND Moving Floor is a reliable conveyor for easy flowing and sticky materials. It consists of a special grating which is individually adapted to the characteristics of the material to be conveyed. The conveyor slats are each powered by a hydraulic cylinder, with individual slats retracting below the material in turn, enabling the complete moving floor to bring the material forward in the conveying direction. It can be installed either on a concrete slab or on steel. Classical applications for this equipment are pre- and interim hoppers for wood chips and bark, sawdust, rubber waste, plastic rubbish, sludge, coal-tar mixtures, refuse from the paper industry and many more. Discharge capacities of 40 to 300 m³/h have already been achieved.
AUMUND Rotating Screw Discharger
The Rotating Screw Discharger is a discharge system for dry or damp bulk materials which do not flow easily. The screw discharger travels over the silo floor by rotating around the vertical axis of the cone, and conveys the material into the chute underneath. It can be adapted to the individual bulk material by variations in the design of features such as the cladding, the teeth, or the pitch of the screw. Screw dischargers can be installed in steel or concrete silos. Depending on the material properties and the diameter of the silo, conveying capacities of up to 450 m³/h can be achieved.
AUMUND Trailer Docking Station
The Trailer Docking Station is an ideal solution for practically dust free intake from self-unloading trailers enabling simultaneous unloading of two trucks without the necessity for a deep pit.
After-Sales Services
PREMAS® – Preventive Maintenance Service
The AUMUND Group of companies offers an extensive range of After Sales services, which includes the brand name PREMAS® for inspections in the traditional maintenance environment. This service is becoming an important factor in the lifecycle of machines used in conveying and storing bulk materials all over the world.
The AUMUND Group has been carrying out PREMAS® inspections on equipment by AUMUND, SCHADE, SAMSON, LOUISE (acquired by AUMUND Fördertechnik at the beginning of the 1990s), WTW Engineering (acquired in 2006) and Besta & Meyer (acquired in 2014), worldwide for over 20 years, as well as on bulk materials handling equipment produced by other manufacturers.
The aim of the preventive maintenance service which is carried out by qualified AUMUND Group field inspectors internationally, directly on site where the machines are, is to document the condition of the machine and to make recommendations for action to be taken.
PREMAS® 4.0 Predictive Maintenance Solution
Developed for and under the guidance of AUMUND Fördertechnik, as an additional highlight to complement the AUMUND Group's already comprehensive package of after sales services, the recently launched PREMAS® 4.0 Predictive Maintenance Solution takes maintenance to another, digital level.
AUMUND is one of the first providers in its area of industrial activity to enter the market with a digital solution for predictive maintenance. PREMAS® 4.0 enables customers to plan ahead and be proactive in preventing the type of breakdowns which can adversely affect plant operation and be very costly, both in terms of repairs and loss of production.
Sensors installed on the equipment are connected to an IIoT (Industrial Internet of Things) box, which sends the data to the cloud for analysis by algorithms. The results can be accessed by the customer on the portal. PREMAS® 4.0 enables online monitoring on any mobile device for early recognition of wear or ageing as well as predictions about the remaining service lifetime of critical components. PREMAS® 4.0 can be installed in existing and new belt and chain bucket elevators made by AUMUND or by other manufacturers.
Contact
If we can help you with any further information, please use the contact form to get in touch.
You will receive an immediate automated acknowledgement, and we will respond to your enquiry as soon as possible.
Many thanks
AUMUND. SCHADE. SAMSON.